Kristóf Milák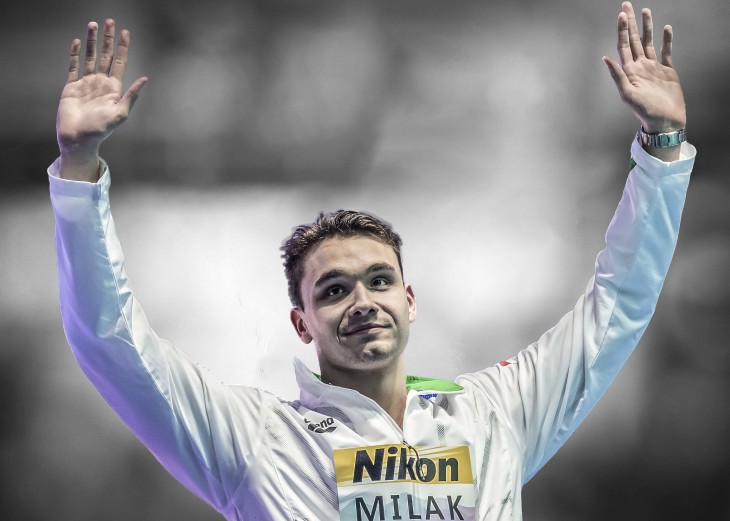 Date of birth: February 20th, 2000
Sport: swimming
Club: Budapest Honvéd
Trainer: Attila Selmeci
World record: 200 m butterfly – 1:50:73, 2019, Gwangju, World Record
World Record Holder, World Champion.
In 2019 at the Swimming World Championships in Gwangju, South-Korea he broke the 200 metres butterfly world record of the legendary 23-time olympic champion Michael Phelps with 78 hundreds of a second.
European Champion, World Championships silver medalist, 3-times Youth Olympic Champion Hungarian swimmer. In 2017 at the World Championships in Budapest, he broke the 100 m butterfly Youth World Record to 51:23 sec, which he further improved twice to 50:77 sec in the semi-finals and to 50:62 sec in the finals. With this result he became the silver medalist. in Indianapolis he collected his and Hungary's 1st Junior World Championships gold medal with the 4×100 m Hungarian freestyle team, and he further increased it with another 3 golds at the Championships. He is one of the biggest hopes of Hungarian swimming, despite his young age he has already reached great successes on international stage, and the rest is yet to come!
Wins the 200 m butterfly with a world record.
Recieves the Hungarian Sportsman of the Year Award.
Three-time Youth Olympic Champion.
European champion.
Silver medal in 100 m butterfly.
Four-time junior world champion.
2016
European Junior Championships
Wins his first junior European title in the 200 m butterfly.